September 30th, 2023 Observatory Public Night
Exploring the Universe Through Astrophotography
By Dr. RDee Sherrill
Is the subject of this month's Estes Valley Astronomical Society (EVAS) meeting. EVAS, in conjunction with The Estes Park Memorial Observatory, is offering a free public open house and lecture on Saturday, September 30, 2023. The goal of EVAS is to promote amateur astronomy and education in the Estes Valley.
Astrophotography provides us with insights into the mysteries of the universe not visible to the naked eye. Whether we enjoy the technical or physical side of this hobby, the pictures we produce are special, they are personal, the result of many hours of perseverance, and they help give meaning to the beauty and awe of the universe.
Dr. Sherrill has experience in equipment, techniques, and processes to make this presentation interesting to beginners through experienced photographers. He will share his knowledge of several niches of astronomy imaging, especially deep sky objects including nebulae, star clusters, galaxies, and more.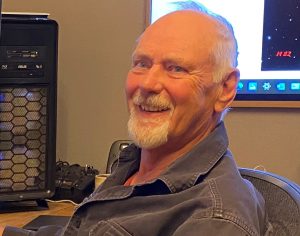 After receiving his Ph.D. in nuclear chemistry, Dr. Sherrill worked at the DOE Rocky Flats Plant, the NASA Johnson Space Center, the DOE Brookhaven National Laboratory, and several private companies. RDee and his wife Beth moved full-time to Estes Park in 2011 and he retired in 2013. Upon retirement, RDee decided to further pursue his lifelong interest in astronomy by building an observatory and delving into the Astro Photography of deep space objects. RDee is now a full-fledged, self-taught Astro photographer who can rival most professionals in the field.
The observatory is just north of the high school at 1600 Manford Avenue.  Please park in the teacher's parking lot adjacent to the observatory. The doors will open at 7:00 pm and the meeting will start at 7:30 pm. The presentation, including a question-and-answer period, lasts about an hour.  After the presentation, weather permitting, we will look through the telescope at various celestial objects. Information about the meeting can be found on the observatory website at: www.AngelsAbove.Org