Our Estes Park Memorial Observatory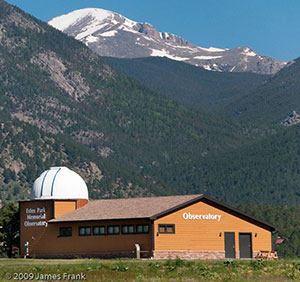 We are located in beautiful Estes Park, Colorado, entrance to the Rocky Mountain National Park. We provide our community with a gateway into the sky.
Learn more about our history…
The Estes Park Memorial Observatory is operated by the Angels Above Foundation and a group of dedicated volunteers who maintain the equipment and lead tours of the night sky from the observatory's 16 foot dome. The observatory features a top of the line Paramount ME II robotic mount installed in March of 2014 along with a new computer system to run advanced observatory software.   The mount supports a new (June 2015) 16 inch Ritchey-Chretien telescope. The telescope, mount and dome are synchronized through the observatory software to provide robotic control that allows rapid and precise pointing to any deep space object in the night sky.
A classroom within the observatory allows EPMO volunteers to conduct lectures regarding the basics of astronomy and features of planets, nebula and galaxies that the students or visitors will be observing when they move to the dome for hands-on viewing. The classroom is also used for lectures by visiting experts and members of the Estes Valley Astronomical Society. Such lectures describe recent space missions, general astronomy, cosmology, astrophotography and unique astronomical occurrences.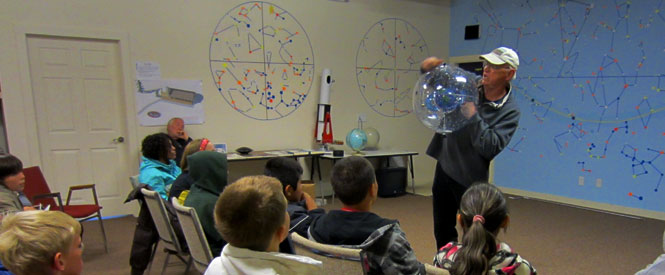 The Estes Park Memorial Observatory Telescope:
16 inch Ritchey-Chretien f/8 Telescope
Paramount ME II Telescope Mount
SkyX Professional Edition Astronomy Software running on state-of-the-art PC
Computer control of telescope, mount and dome, adaptable to remote operation
TV projection from telescope to classroom monitors
The Observatory Facility
60′ x 40′ warm room/conference area
16′ diameter observatory dome
Concrete & steel pier for telescope mount
Small office, workshop, storage & lavatory
Constellation star wall
State-of-the-art audio/visual and Internet equipment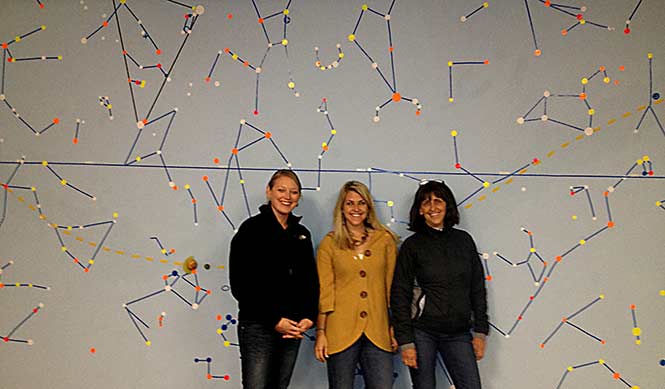 ---
Estes Park Clear Sky Chart