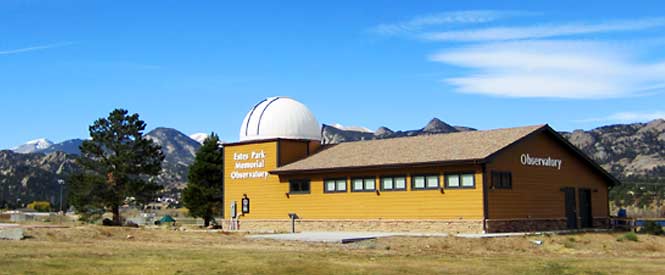 Observatory status.
October 2023
The observatory is currently hosting visits four nights a week but will be closed two days before and the night of the full moon due to the brightness. Reservations will only be taken three months in advance through October 2023. The observatory will also accommodate school groups and organizations working with youth. However, availability is limited due to the small number of volunteers and the capacity of the facility. Currently, the observatory has only two trained volunteers and can only accommodate 14 people in the viewing dome at any one time. The observatory is currently training more volunteers and will open up for more nights as volunteers become available. If you wish to reserve a date for a visit: First check out the Schedule to see if there are any open dates or if you can fit into an existing date without exceeding the 14-person limit.
Welcome to the Estes Park Memorial Observatory
The Estes Park Memorial Observatory (EPMO) is a community resource dedicated to fostering the scientific education of children in Estes Park and serving as an educational venue for the community and visitors.   EPMO holds events throughout the year in conjunction with the local school system, the Estes Valley Astronomical Society, and the Rocky Mountain National Park.
The observatory schedules private and group viewing sessions and hosts educational lectures on astronomy, cosmology, astrophotography, and special astronomical events such as comet fly-bys and more! We also have fun ongoing projects like our Human Sundial Project. EPMO is currently offering opportunities for volunteers. Just contact us to get involved and learn about our sky along the way! Can't help? Donate to our Estes Park Observatory and come visit anytime!
See our Schedule to book your viewing and/or see what is coming up soon!
The Estes Park Memorial Observatory Goals:
To interest kids K-12th grade in math, physics, and science.
To use astronomy as a tool to accomplish these goals.
To make learning a fun experience.
To promote critical thinking about really big things.
See more about our observatory equipment and learn more about the observatory.
Donations can now be made online to EPMO! Thanks to our past and future donors.