October 28th Observatory Open House / Lecture /Public Star Night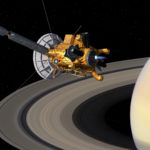 Cassini Mission at Saturn
An Epic Ending to an Epic Mission

Is the subject of this month's Estes Valley Astronomical Society (EVAS) meeting.   EVAS in conjunction with The Estes Park Memorial Observatory is offering a free public open house/star night on Saturday, October 28, 2017.  The goal of EVAS is to promote amateur astronomy and education in the Estes valley.
During its "Grand Finale," the Cassini mission studied a never-before-explored region very close to Saturn. The spacecraft has taken ultra-close images of the planet's rings and clouds, while revealing new details about its interior and the origins of the rings. After 22 of these week-long orbits, on September 15, 2017, the spacecraft plunged into the giant planet's upper atmosphere, where it burned up like a meteor, ending the epic mission to the Saturn system.  Bill Possel will describe the history of Cassini as well as the planning and execution of the Grand Finale.  The University of Colorado at Boulder's Laboratory for Atmospheric and Space Physics (LASP) built and operated Cassini's UltraViolet Imaging Spectrograph (UVIS) instrument.
Bill is the Director of Mission Operations and Data Systems at the Laboratory for Atmospheric and Space Physics (LASP) at the University of Colorado at Boulder.  He has over thirty years of experience in space system management, development, and operations with the Air Force, National Reconnaissance Office, and NASA.
Prior to his appointment at LASP, he served in the Air Force, retiring at the rank of Colonel.  During his Air Force career he managed numerous space system and launch vehicle programs and directed spacecraft operations at ground stations.  His experience covers space systems from concept study through launch and on-orbit operations.
Bill earned his commission following graduation from the University of Cincinnati.  He holds a Bachelor of Science in physics and a Master's of Science in engineering physics from the Air Force Institute of Technology.  He is also a graduate of the Air Force Air Command and Staff College and Air War College.
The observatory is just north of the high school at 1600 Manford Ave. Park in the teacher's parking lot between the high school and the observatory. The doors will open at 7:00 pm and the meeting will start at 7:30 pm.  The presentation, including a question and answer period, lasts about an hour. After the presentation, weather permitting, we will look through our new 16 inch dome telescope at various celestial objects.