Astronomy News from Estes Park Observatory
Check back often to see get posts from EPMO.
Deep Space Exploration at Lockheed Martin Space Division
By Ari Vogel
Is the subject of this month's Estes Valley Astronomical Society (EVAS) meeting. EVAS, in conjunction with The Estes Park Memorial Observatory, is offering a free public open house and lecture on Saturday, October 28, 2023. The goal of EVAS is to promote amateur astronomy and education in the Estes Valley.
Description – What will space exploration and activities look like in the future?
Whether it's going to the Moon and Mars or investigating the origins of life, Lockheed Martin Deep Space Exploration (DSE) leads the way. It operates at the intersection of mission complexity and uncertainty. The DSE team's robotic spacecraft exploration heritage, in both past and current missions, is at the forefront of this endeavor. The speaker will discuss the DSE approach to mission development using the OSIRIS-REx and the Mars Sample Return missions to illustrate how this is accomplished.
Our speaker this month is Mr. Ari Vogel. Mr. Vogel is the Director of Deep Space Exploration at Lockheed Martin Space. In this capacity, he is responsible for execution and growth in robotic deep space exploration markets, providing customer astonishment, and developing and implementing strategies for long-term customer and business success. He brings 20 years of space systems experience to the organization.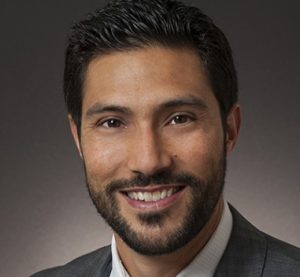 Ari is responsible for some of the well-known spacecraft exploring, or soon to be exploring, our solar system and studying the universe. These include OSIRIS-REx, Mars Sample Return, DAVINCI, VERITAS, Janus, Lunar Trailblazer, Dragonfly, Juno, Lucy, MAVEN, MRO, Hubble, and Mars Odyssey.
Mr. Vogel is a passionate people leader and has made significant contributions to developing a talent pipeline via new employee programs and engagement. Mr. Vogel graduated with Honors from Santa Clara University with a Master of Science in Engineering Management and Cum Laude from Arizona State University with a Bachelor of Science in Electrical Engineering. He enjoys substitute teaching, coaching and exploring our world with his wife and two boys.
The observatory is just north of the high school at 1600 Manford Avenue.  Please park in the teacher's parking lot adjacent to the observatory. The doors will open at 7:00 pm and the meeting will start at 7:30 pm. The presentation, including a question-and-answer period, lasts about an hour.  After the presentation, weather permitting, we will look through the telescope at various celestial objects. Information about the meeting can be found on the observatory website at: www.AngelsAbove.Org