September 28th Observatory Open House / Lecture /Public Star Night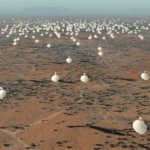 When:
September 28, 2019
all-day
2019-09-28T00:00:00-06:00
2019-09-29T00:00:00-06:00
Where:
Observatory OPEN HOUSE
1600 Manford Ave
Estes Park, CO 80517
USA

Contact:
Mike Connolly
970-586-5668
Tonight's Program TBD
"The Square Kilometer Array – An Update"
The Estes Valley Astronomical Society (EVAS) in conjunction with The Estes Park Memorial Observatory is offering a free public open house/lecture on Saturday, September 28 at 7 PM. The goal of EVAS is to promote amateur astronomy and education in the Estes valley. Our guest speaker is Dr Dayton Jones, from the Space Science Institute in Boulder, and the title of his presentation is "The Square Kilometer Array – An Update".
For over twenty years the international radio astronomy community has been developing the technology and designs for a revolutionary new research instrument, the Square Kilometer Array (SKA). The SKA will be the next-generation facility for radio astronomy, offering a tremendous increase in sensitivity and flexibility over any existing radio facility in the world. These new capabilities will help answer some of the most fundamental questions in astrophysics, including the formation of nearby planetary systems, tests of gravitational theories in the strong-field limit, and the long-term evolution and fate of our universe.
.
The United States is not a formal partner in the SKA, but is proposing a US- based array called the Next Generation Very Large Array (ngVLA). This facility will cover higher frequencies than the SKA, and thus will provide complementary scientific capabilities. Together, these arrays will provide an unprecedented leap in observational capabilities.
This talk will summarize the current status of the SKA and ngVLA, and some of the innovative technology developments underway.
Dayton Jones worked at Caltech's Jet Propulsion Laboratory in Pasadena, California for over thirty years, retiring as a Principal Scientist and moving to Colorado last year. He is currently a Senior Research Scientist at the Space Science Institute in Boulder. His research interests have focused on high-resolution imaging and position measurements of distant radio sources using interferometry. He has served as an officer of the US SKA Consortium and a US representative to the international SKA Science and Engineering Council.
The observatory is just north of the high school at 1600 Manford Ave. Park in the teacher's parking lot adjacent to the observatory. The doors will open at 7:00pm and the meeting will start at 7:30pm. The presentation, including a question and answer period, lasts about an hour. After the presentation, weather permitting, we will look through the 16 inch dome telescope at various celestial objects.
The lecture is free to the public and no reservations necessary. Just come and join the party and be ready to ask questions! For more information, please call the observatory at 970-586-5668