July 27th Observatory Open House / Lecture /Public Star Night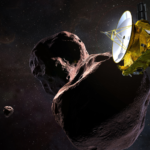 When:
2019-07-27T00:00:00-06:00
2019-07-28T00:00:00-06:00
Where:
Observatory OPEN HOUSE
1600 Manford Ave
Estes Park, CO 80517
USA

Contact:
Mike Connolly
970-586-5668
Uncovering a mystery at the edge of the solar system
The Estes Valley Astronomical Society (EVAS) in conjunction with The Estes Park Memorial Observatory is offering a free public open house/lecture on Saturday, July 27, 7 PM.  The goal of EVAS is to promote amateur astronomy and education in the Estes valley.
Aerospace engineer Mike Grusin will share recent findings from the NASA New Horizons spacecraft mission. Just this year, the spacecraft revealed insights into the farthest object in the Solar System that humanity has ever explored.
It was NASA scientists who had found the shadow of a strange object beyond Pluto, in a cold and remote part of the Solar System. Though the scientists could detect it with telescopes, they knew very little about it. Their best hope was the New Horizons spacecraft, which famously flew past Pluto in 2015. Knowing the spacecraft had sufficient fuel to go even farther, scientists sent it toward this mysterious object that might hold clues to the very formation of our Solar System. Grusin will offer his insights into what scientists found to help uncover a mystery.
Mike Grusin is an aerospace engineer and space enthusiast living in Boulder. He has built spacecraft, fighting robots, haunted houses, and taught electronics and programming to kids. He has worked with numerous groups, including the Colorado Space Grant Consortium and Sparkfun Electronics. He is now helping the University of Colorado to design experiments for the International Space Station.
The observatory is just north of the high school at 1600 Manford Ave. Park in the teacher's parking lot adjacent to the observatory. The doors will open at 7:00pm and the meeting will start at 7:30pm. The presentation, including a question and answer period, lasts about an hour. After the presentation, weather permitting, we will look through the new 16 inch dome telescope at various celestial objects.
The lecture is free to the public and no reservations necessary. Just come and join the party and be ready to ask questions! For more information, please call the observatory at 970-586-5668